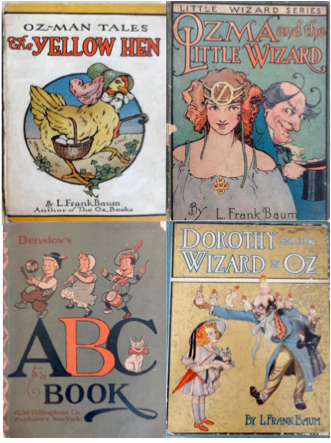 "Second hand books are wild books, homeless books; they have come together in vast flocks of variegated feather, and have a charm which the domesticated volumes of the library lack."

This fabulous quote by Virginia Woolf inspired me to create a new category at Wonderful Books of Oz: Wild & Homeless Books. These Oziana items have special qualities, like being early, rare, or having fabulous illustrations, but they have more than the usual faults–their previous owner may have been a wild child! Now they're priced nicely and are only looking for a good, non-judgmental home. Some examples of the types of books included are shown in the photo.
You can find my Wild & Homeless books here. Some available at the time listed below. Have fun!
Vintage TIN WOODMAN OF OZ Book 12 Color Plates L Frank Baum John R Neill 1923
1927 Reilly & Lee Original LAND OF OZ Coloring Contest Wizard of Oz MAP
DOROTHY and THE WIZARD IN OZ Baum 1st Edn/2nd Print L Frank Baum 1911 Fair
W W Denslow FAIRBANKS HISTORY OF THE UNITED STATES 1916 Fairy Soap Advertising Booklet
SCALAWAGONS OF Oz w/ Dust Jacket John R Neill Reilly & Lee Wizard of Oz Book
DENSLOW'S A B C Book ABC Dillingham Picture Book 1st Edn 1903 Wizard of Oz ANNABEL Book L Frank Baum (Suzanne Metcalf) 1912 Reading Copy
Wizard of Oz Stageplay Fred Stone "Putting the Scarecrow Together" Original Postcard 1906
DENSLOW'S Scarecrow and the Tin-man Wizard of Oz Illustrator Denslow Book
Sale: OZ-MAN TALES: THE YELLOW HEN L Frank Baum John R Neill Oz Book 1920 Fair
WIZARD OF OZ Redbook's Picture of the Month MGM Movie Article Sept 1939
OZMA & the LITTLE WIZARD Wizard of Oz Jell-O Jello 1932 L Frank Baum Book
GOOD HOUSEKEEPING 1939 MGM Wizard of Oz Interview Leroy, Fleming, Judy Magazine