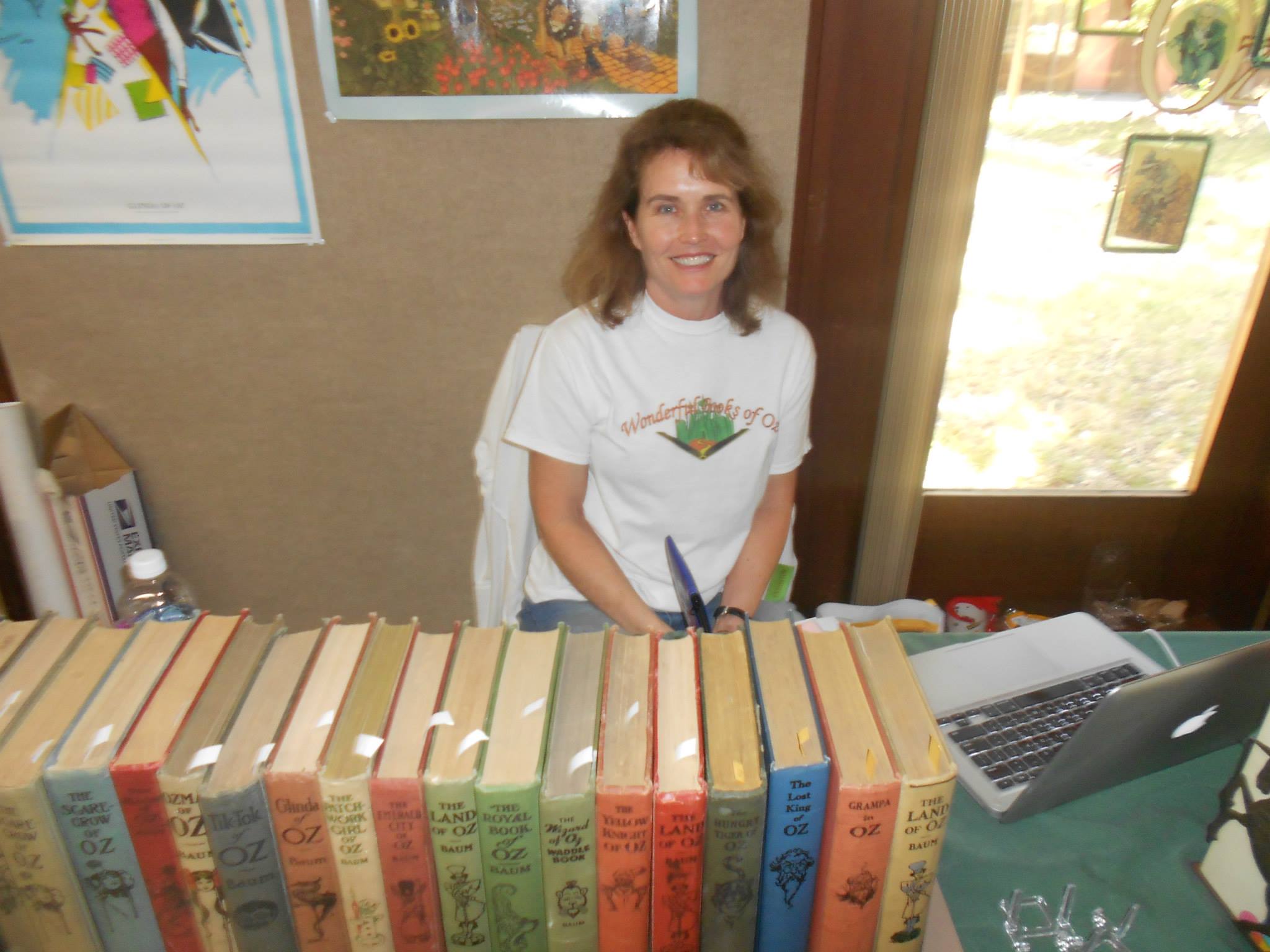 Hello there. I'm an avid reader and have loved Wizard of Oz books since I was about 5, when my Dad bought me my first. It was old and a little tattered (he liked to frequent the used bookshops in LA), but I didn't notice that. It began a lifelong love with Oz, especially the books. Each birthday or if I was sick, he'd bring me another Oz book in the series.
I started adding to my collection again in 2005, buying some books and selling others…well, one thing led to another and here I am with my own online bookshop, Wonderful Books of Oz! I specialize in vintage Oz books, but not just the common ones in the series–I like to search out the most unusual, as well Oz-related paper items, like postcards and magazines. Through the connection with the original Oz illustrator W. W. Denslow, I also specialize in books and ephemera related to the Roycrofters. All my items are original unless specified otherwise, and with fair prices. My descriptions are given with a minimum of complicated bookseller's jargon, yet contain important bibliographical information and are detailed enough so you can be confident in what you're buying. I also guarantee every purchase–if you are not happy for any reason; please let me know, and you can return your item for a full refund. While I do also work as an atmospheric scientist, I believe in superior customer service and take the utmost care with every query and transaction. You can reach me by email under "Contact" tab, above. Also check out my OzCon International Youtube interview.
I've been on the governing board of The International Wizard of Oz Club, a member of the Independent Online Bookseller Association (IOBA) and the Ephemera Society of America, and a graduate of the Colorado Antiquarian Book Seminar. My customer feedback and number of repeat buyers testify that I'm doing something right! Here are some real kudos from my WONDERFUL customers:
"Hi Cindy, Glinda arrived today and it's a lovely copy. I'm pleased to have it in my collection. Thank you."
"Just wanted to compliment you, once again, for the careful packing and shipping. The postman delivered the two packages to the front stoop of my house, despite that being the third level of my building. Thank you for making all these goodies available!"
"Thank you again- this book was a favorite of my wife's and she broke into tears when she first saw the cover."
"I just received the book. After recently buying an Oz book from another collector, and having it arrive poorly packed and bouncing around in the box, I REALLY appreciate the careful and secure packing that you do!"
"II woke up to find the package on my porch which was heavier than expected. I have been on the hunt to find a good Patchwork Girl and was blown away that you added that into my order. I actually cried! I am still so shocked. I can't wait to read it when I get there ( I am currently on The Emerald City). Thank you so much, it was a marvelous surprise!"
"I received both orders the other day in perfect order. Lost Princess is a lovely copy and the two Denslow pamphlets are fun. It's always a pleasure doing business with you."
"Your package arrived today, and I've just had time to unpack it. I am so happy with the Denslow pictures! They are marvelous. I can't wait to study them further tomorrow with a magnifying glass. He may not have yet developed his signature style in these, but his talent and technique are certainly apparent. Thank you again for giving me a chance at these!"
"The books arrived today in perfect order. Thanks for the careful packaging. It will take me a few days to get around to comparing them to Farah's guide."
"I received both orders the other day in perfect order. Lost Princess is a lovely copy and the two Denslow pamphlets are fun. It's always a pleasure doing business with you."
"Thank you so very much Cindy! Bandit Jim Crow came today and it looks awesome."
"I have rarely (if ever) received a book as lovingly packed as yours! Many thanks for the very professional care you have taken. I much appreciate this."
"I received the books and they're great as usual, thank you! It's a fun experience to handle the Merry Go Round in Oz copy, practically like it's been untouched since the '60s."
"This book is wonderful Cindy. Thank you so much. It is even nicer than what you listed. Thank you also for the nice little card."
"Received the bundle! Thank so much! The Dick Martin books are in wonderful shape!"
"Once again I thank you for your excellent and careful packaging. The Bill Eubank items are great, and I'm pleased to have them."
"Thanks for the very interesting, and odd, book! It is oddly put together… It makes a very nice addition to my collection – one that I have never encountered before. I may have to bring it to a "show and tell" someday."
"Wow!! Just got my package. I can't believe the bonus items ! I'm ecstatic !! Thank you so much. I really appreciate that!"
"The parcel has just arrived safe and sound, complete with its myriad of goodies, which is astonishingly swift service in this era of COVID. The R&B edition of Land of Oz is also in superlative condition. Just wonderful. So thanks once again."
"The 3/4 levant copy of White Hyacinths from your recent listings has arrived and, as usual, is a beautiful little book."
The well packaged book arrived today in perfect order. It's far lovelier than I expected. I have few books here colored by poichoir but not so delicately and elaborately handled as this one is."
"You always have such interesting and unusual items for sale. Looking forward to receiving these."
"I just received my book in the mail today and I was soooo excited to open it and smell the pages!!! I'm working on getting the entire collection. Do you have the others in this same format? :)"
"Thanks for another great batch of Oz books! Wonderful service and packaging; very much appreciated!"
"Thanks for the Aunt Jane's Nieces set! I've always thought I ought to read them, but your description on your site convinced me to get the vintage set. Thanks for the Jack Pumpkinhead copy in August as well. It's a relief to buy these from a trusted source and not do the eBay gamble."
"I received Ruth's signed Oz stationery and could not be more pleased with it. It's a wonderful companion piece to L. Frank Baum's signature. I look forward to doing more business with you again soon. "
"I wanted to let you know that my order for the two books arrived two days ago and are now safely at my house. Perfectly packed, as always!"
"I received the original 1939-1940 Oz Valentine's cards in the mail today. They are gorgeous in person and have held up extremely well over the years. I plan on collecting more 1939 memorabilia. Thanks again!"
"Just wanted to say thanks again for another great book. It's exactly what I was looking for! The pages almost feel new compared to some of the later Oz books I have."
"I hope I haven't disappointed too many of your other regulars, but when I see a book I really need (as is often the case with your site) and the price is reasonable (as is ALWAYS the case with your site), I take swift and decisive action."
"Received the package today and everything was in perfection condition. I never thought I'd be able to say this, but at long last I finally have L. Frank Baum's authentic signature/autograph, all thanks to you (and xxxx)! This is truly one of the best Christmas presents I have ever received and is a crowning jewel to our Oz collection."
"This is a belated thanks for the two books I ordered in August. I love them! The guide book has already helped me a great deal in identifying what I already have. "
"The books arrived yesterday in splendid shape. They are both exquisite and will make great Christmas gifts!"
"Just wanted to drop a "thank you", as my package from you has arrived. I couldn't be happier with everything. This order marked my first foray into purchasing some earlier editions, so rest assured your former "wild and homeless" books will be in loving hands. Thanks as well for the neat extras; I particularly love the Scraps tote bag."
"I received my books yesterday and they are wonderful! Thank you so much for the wonderful customer service, and the very careful packing. You exceeded expectations in every way."
"I finally got to my incoming mail just after noon today, and there was Peter and the Princess and the Easter Card created by John R. Neill. I'm might pleased with both, and thank you for your good care in getting them to me safely."
"I wanted to thank you for the care you took in packing the two books I received this week. I look forward to placing another order with you soon."
"Just a quick note to say how much I enjoy receiving the Wonderful Books of Oz announcements. While my collecting has slowed a bit in recent years, I am amazed by the beautiful and interesting items you assemble for sale."
"I have never seen 1960s issues [of the Baum Bugle] for sale anywhere other than in your store, which says something about your ability to consistently source rare material."
"Oh WOW! The books arrived and they're stunning! Thank you! I think you hold the title of World's Best Packaging. So very kind of you. Thank you."
"Just wanted to let you know that the four Pettijohn's advertisements and the very nice copy of the 1909 Bobbs printing of Songs of Father Goose arrived safely yesterday. Thanks for your constantly fine service."
"I really appreciate all you do to help build my sister's book collection!  She loves your selections and is amassing a pretty impressive collection.  It wouldn't have happened without you, and for that, I thank you!"
"I absolutely love Ozma of Oz. It came in great shape and I so love the illustrations. They are so sharp and clear compared to a later copy I already had. Thank you so much."
"Your package arrived today, and the contents are all in perfect condition.  Thanks for the super careful packaging!  I love the watercolor, and the postcards are great too."
"The drawing arrived in perfect order, and I'm quite pleased with it."
"I have been delighted with all my purchases from you, as well as a book I received as a gift also purchased from you."
"The book just came and I'm very happy with it. The colors are better than any others I've seen, so thanks so much!"
"you're amazing. thank you!"
"Your on line guide to first editions speaks volumes to your interest in the OZ community and personal integrity and professionalism."
"I'm very happy with the book! It was just as described, which these days can be a rarity…I would give you 6 stars if I could."
"I picked up the Wiz of Oz books yesterday and was very pleased with your packing and the books in general. Thank you for your special attention in all matters."
"Hi, Your store is WONDERFUL! You do an excellent job maintaining it and provide a lot of great information for the "green" Oz collectors."
"I wanted to thank you for taking the time and trouble to share your knowledge with a novice collector. Your customer service is MOST appreciated; it's rare these days to even receive a simple response from ebay sellers…"
"I have purchased from about twenty different sellers this month and by far I love you the best."
"Books arrived yesterday, and they are beautiful! Once again, you have a very satisifed customer. Thank you!"
"You have such wonderful and interesting items for sale and I will need to make sure that I check out your shop more regularly."
"Hello, the books arrived today and I am just thrilled with them!"
"The book and cards arrived–very nice! I starting reading "Dot and Tot" last night since I realized I'd never read it. Can't believe it's my bedtime reading at my age!"
"You are my favorite "OZ" book lady and is such a pleasure to purchase items from you. I check your products first when I'm searching for a particular item. I know the listings you put together are very accurate, well thought out, and of good value."
"You deal in exactly the kind of books I love. It's your suspiciously consistent literary acquisitions that make me a good customer. And the consistently great customer service you give. I am a fan of your books and your willingness to work with the functionally poor (or perhaps "economically challenged" is nearer the mark)."
"thanks for the OZ valentine. i have 3 of them now. the Scarecrow, Glinda, and Tinman & Dorothy. i love looking at the things in your store. you have such great stuff!!!"
"The books arrived and are every bit as lovely as I've come to expect from you. Thank you!"
"Wanted to let you know I received the Dutch Oz book today. WOW! I can't tell you how happy I am. You just don't see that book often and I could not be happier with the it. Thank you so much."
"The Jigsaw Ozma book arrived today. Very nice. Thank you!"
"You are the WONDERFUL proprietor of Wonderful Books of Oz! THANK YOU!"
"They're perfect. Just got them today. Thank you sooo much."
"Thank you!  As always, your service is impeccable."
"I have enjoyed your services since I found your website. All your books have been exactly as stated. Thank you again for being so helpful to me."
"The drawing arrived in perfect order, and I'm quite pleased with it."
"My book arrived in good condition yesterday.  It's pretty neat to now have not only a dust jacket, but also the publishers band!  Again, I appreciate the great service!  Thank you very much!"
"Robert Ingersoll with DJ by Dard Hunter arrived today to my complete satisfaction. Thanks again for mailing 1st class."
(From Australia): "The first order has already arrived, if you can believe that. Everything was very well packed and arrived in great shape."
"I've been meaning to tell you that the books arrived last Thursday. I am very pleased with them…Anyway, consider me to be a very happy customer for the umpteenth time or so."
"Each and every single package from you is like opening a Christmas present. Thank you Cindy. I'm so happy with these treasures."
"I just wanted to let you know I got the books late last night – and thoroughly enjoyed opening them this morning! They are AMAZING! And the extra jacket protectors worked perfectly on my other DJs. Couldn't have gone smoother; they really look great and I feel so much safer handling them. Thanks again, so much!"
"Your parcel arrived here yesterday with all its goodies intact, including that superlative copy of the library edition of 'Cowardly Lion'. Everything looks great as always. Thanks for the 2017 OzCon / Winkie Con tote bag, too!"
"I hope one day we will meet. I like the way you think and your intuitive honesty. I can't tell you how much I have enjoyed procuring books through you, and how much pleasure you have given our family. "
Please browse my store and if you don't find what you want–there's a pretty good chance I might have it squirreled away somewhere. Visits to my book room in San Diego County, CA are available by appointment.