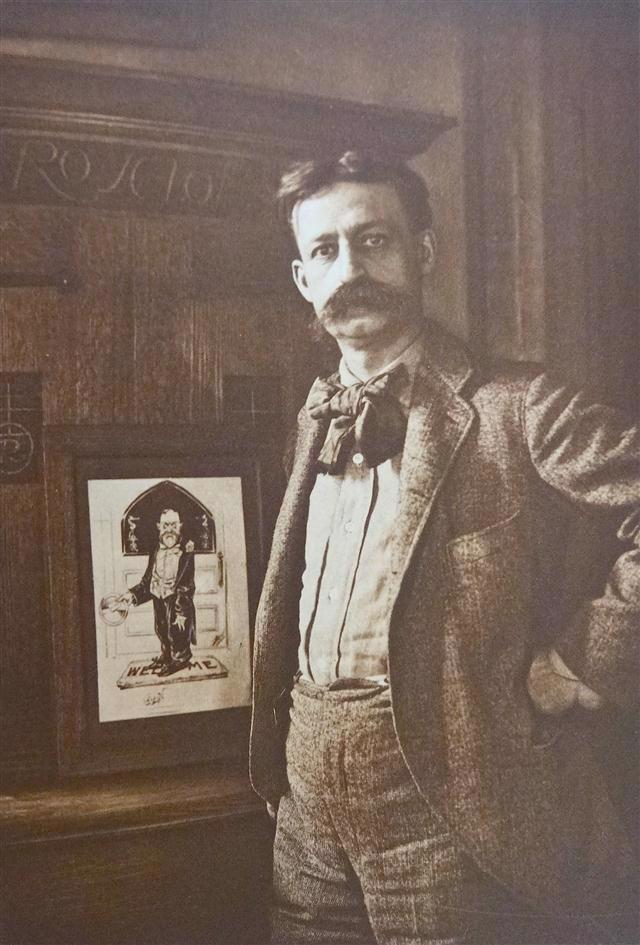 Artist W W Denslow. Note "Roycroft" carved into the cabinet to his left.
Are you a member of the International Wizard of Oz Club? I hope so, because if so, you'll receive the special W. W. Denslow issue of the Baum Bugle magazine due out in June! Denslow was co-creator of The Wonderful Wizard of Oz book with L Frank Baum, and he's my favorite real-life Oz character. So I'm helping Bugle editor Craig Noble create and edit this special issue, on the 100-year anniversary of Denslow's death in 1915.
While Denslow only illustrated a few of Baum's books, he was a hugely prolific artist. This special issue will include two articles that I've written on Denslow and the Roycrofters (including a checklist), and also will describe some newly discovered trade cards drawn by Denslow. Others will write about how Denslow's artistic style developed, his Billy Bounce comic strip, his postcards, his personal archive, Denslow Island, and more. You'll even get a peek at Oz Club members who proudly wear Denslow hippocampus tattoos!
To make sure you get this Ozsome issue (which will have some color pages for better display of Den's art), make sure you join the Oz Club soon, here! It's only $25 per year and will bring you together with a great group of people who foster Oz education and activities. Plus, you get the Bugle and 20% off books published by the Club.
Are you a Denslow fan already? Some of us are planning to sponsor a memorial Denslow stone on the "Appian Way" walkway at the Roycroft campus in East Aurora, New York. If we get enough contributions, we can get a larger stone and have it engraved with his hippocampus symbol! Denslow deserves this recognition at the place where he contributed so much to the success of Roycrofters' hand-crafted books. If you'd like to contribute, please contact me here.
Don't forget to check out Wonderful Books of Oz' New Listings. Also, peruse the Sale items–more markdowns this month! 4/28/15
Photos and description by Wonderful Books of Oz, copyright protected through the DMCA act of 1998. Please contact me for permission to use photos or text.