San Diego's 1st Winkie Convention is less than two weeks away–August 8th-10th, 2014. Yours truly is managing the Dealer's Room, which will be open all three days. If you're attending the Con, I've been stockpiling some special Ozzy items that will only be available there!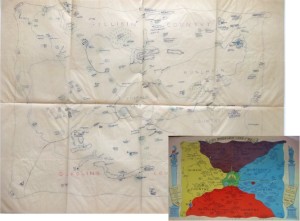 A silent auction for a set of original 1962 Wizard of Oz Club hand-drawn maps will be held at Wonderful Books of Oz's booth. Oz cartographer Jim Haff painstakingly drew these giant, Ozzy-accurate maps for publication by the Oz Club: one of "The Marvelous Land of Oz", and one of "The Magical Countries Surrounding Oz". Artist and club member Dick Martin took Haff's maps and embellished and produced the production version. The first edition maps were printed in 1962, with multiple later printings throughout the years. Even the printed maps from 1962 are scarce, because the club was so small then, but these are the original pieces of art by Jim Haff! This may be the only opportunity to add these truly one-of-a-kind set of two maps to your collection, each an individual work of art. Also useful for Ozian geography studies. These are much larger than the actual printed maps–size of each is about 23″x30-36″. The Land of Oz map is in blue ink with a few color additions, and the Countries map is in pencil with some color as well. Lot includes the original mailing envelope from Fred Meyer to Douglas Greene, inscribed "OZ Maps–Originals by Jim Haff 1962". From the Fred Meyer collection, and guaranteed unique and authentic. Printed Oz map inset shown for reference only and is not included.
Bidding will start at $600 for the set of 2 maps. These are not in the normal Oz Club auction, but at my booth in the Winkie Dealer's Room. Stop by in person to view and place your bid, or email Absentee Bids to me by August 7th, 2014. More information on the convention here: Winkie-Con.
Photos and description by Wonderful Books of Oz, copyright protected through the DMCA act of 1998. Please contact me for permission to use photos or text.